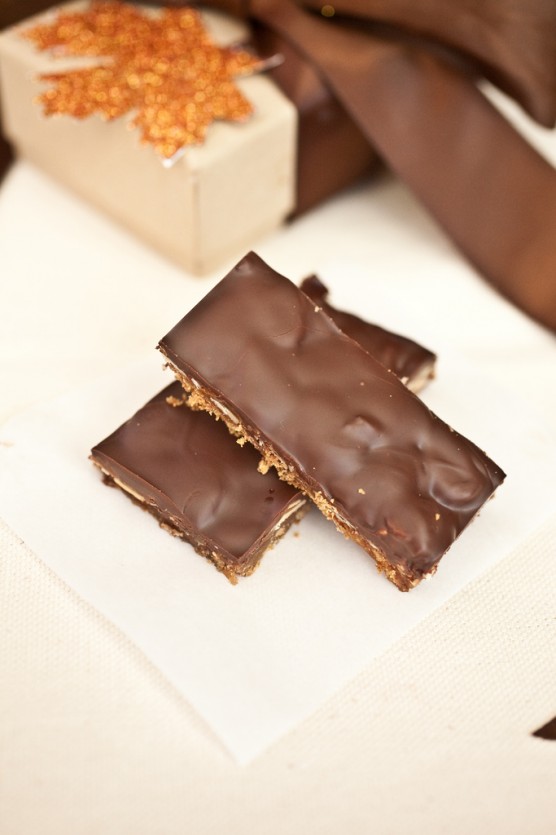 8 whole graham crackers
1/2 cup sliced almonds, toasted
3/4 cup dark brown sugar
1/2 cup + 2 T butter
1/4 teaspoon Fleur de Sel, Maldon, Vanilla salt – or some other fine finishing salt
3/4 cup bittersweet chocolate chips (Ghirardelli 60%)
Lightly butter a 10×10 baking dish. Pre-heat your oven to 325*.
Arrange the graham crackers on the bottom of the dish and sprinkle the toasted almonds on top. Set aside.
In a medium sauce pan melt the butter and brown sugar and boil for 3 minutes. Pour sugar mixture over the crackers and almonds in a thin even layer. Sprinkle with salt.
Place dish in the oven and bake for 10-12 minutes or until the toffee layer is bubbling all over.
Remove from the oven. When the bubbles have subsided sprinkle on the chocolate chips and let the residual heat melt them. With an offset spatula smooth the chocolate layer over the entire surface.
While still warm score the candy with a sharp knife cutting them into your desired shape and size.
Place in the freezer for 10 minutes to set the chocolate. Remove from pan and cut along the scored markings.
Serve immediately or can be sealed in an airtight container for up to one week. Can also be frozen for up to one month.