A yawn is a reflex of simultaneous inhalation of air and stretching of the eardrums, followed by exhalation of breath.
'Sneezing' & 'Yawning' … Good & Evil?

The following hadith was sent to me over email and seems a little confusing to me. It implies that yawning is an unnatural thing which Allah does not like. I was wondering on the authenticity or background to this hadith so that I may be clearer on it:

Narrated by Abu Huraira (Radhiallahoanho) : The Prophet (sallallaahu 'alaihi wasallam) said, "Allah loves sneezing but dislikes yawning; so if anyone of you sneezes and then praises Allah, every Muslim who hears him (praising Allah) has to say Tashmit to him. But as regards yawning, it is from Satan, so if one of you yawns, he should try his best to stop it, for when anyone of you yawns, Satan laughs at him." Bukhari Vol 8 : No. 245
The Prophet (PBUH) said:


"When you yawn, cover your mouth with your hand." (Muslim)

"Try as hard as possible to overcome your yawns while you are in your prayers". (Muslim)

"Allah likes the sneeze and dislikes the yawn. When someone amongst you makes a sound like "aah aah" while yawning, the shaitan (satan) laughs in his open mouth." (Tirmadhi)

"Allah likes the sneeze and dislikes the yawn. When someone among you sneezes and says: 'Alhamdulillah' (All praise to Allah [for relieving me]), it is essential for all those who hear him to say: "yarhamukallah" (May Allah have mercy on you). While if someone feels that he is about to yawn, he should try to overcome it, as much as possible [and if it is not possible to overcome it] he must not make sounds like: "haah haah". These sounds are prompted by the shaitan (satan) and he laughs when you make such sounds [while yawning]". (Tirmadhi)
These and a number of other narrations point to the fact that the Prophet (PBUH), in these words has actually taught an important etiquette to his companions. It seems that the narrators of the particular narration of Bukhari that you have referred to have missed out on an important part of the actual words of the Prophet (PBUH). What the Prophet (PBUH) actually condemned was not the natural phenomenon of yawning, but to yawn without covering one's mouth and to make sounds with such yawns. If this explanation is held to be correct, it would mean that the Prophet (PBUH) has actually taught us the following etiquette in this saying:


To control and overcome our tendency to yawn in our prayers and while sitting in company of others. This is primarily due to two reasons: Firstly, yawning is a sign of lethargy. Such lethargy, in prayers or in company of others depicts that a person is not fully interested and is not concentrating in what he is doing.
Secondly, such lethargy is prone to be contagious. It has been observed that when person in company of others, whether in prayers or otherwise, yawns, he prompts the others to do the same. Such a tendency greatly contributes in spoiling the atmosphere of the gathering.
In case it is not possible to overcome a yawn, then we should at least observe our social etiquette. We should cover our mouth and not make any lethargic sounds.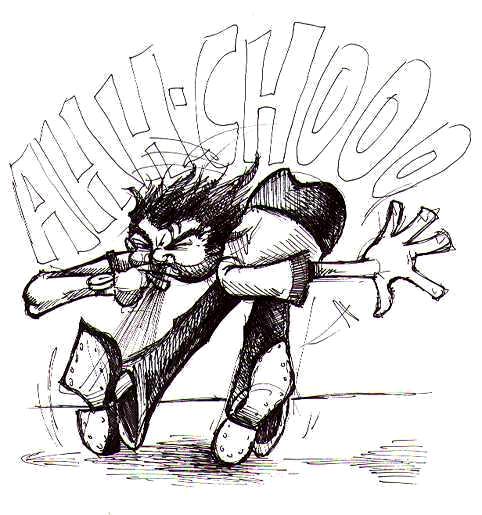 http://www.understanding-islam.com/rs/s-014.htm