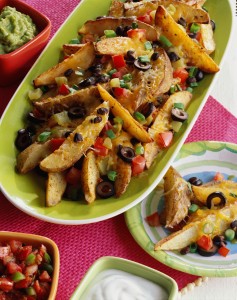 Nachos are popular among kids and teens alike; however, the fat and calories found in typical recipes are enough to make parents scream. But, nutrition concerns don't have to put a damper on nacho noshing festivities. Introduce potatoes into the equation and you'll provide your family with a healthy dose of potassium, vitamin C, and fiber. This recipe was shared by the United States Potato Board and I think it's positively brilliant. The perfect blend of everyone-loves-'em potatoes slathered with all the best nacho toppings. And to think this recipe contains less fat and more nutrients than a plate of nacho's. I'll take two servings, please.
POTATO NACHOS
1 ½ pounds russet potatoes
1 ½ tablespoons vegetable oil
½ teaspoon garlic salt
1 teaspoon Mexican seasoning blend
1 cup Mexican blend shredded cheese
¼ cup rinsed and drained canned black beans
¼ cup diced tomatoes
¼ cup sliced black olives
¼ cup sliced green onions
3 tablespoons canned diced green chiles
Salsa, guacamole and sour cream (optional)
1. Preheat oven to 425 degrees. Scrub potatoes and cut into 1/2-inch thick wedges.
2. Place potatoes into a medium size bowl with the oil, garlic salt and Mexican seasoning. Stir well to coat potatoes with oil and seasonings.
3. Transfer to a large baking sheet and spread into a single layer. Bake for 25 to 30 minutes, stirring several times, until crisp and golden brown.
4. Top with cheese, beans, tomatoes, olives, onions and chiles.
5. Bake for 5 minutes more to melt cheese.
6. Serve with salsa, guacamole and sour cream.

Makes 4 servings.

PER SERVING: 308 calories, 13 g protein, 35 g carbohydrate, 16 g total fat, 32 mg cholesterol, 659 mg sodium, 5 g fiber, 37 mg Vitamin C, 913 mg potassium.