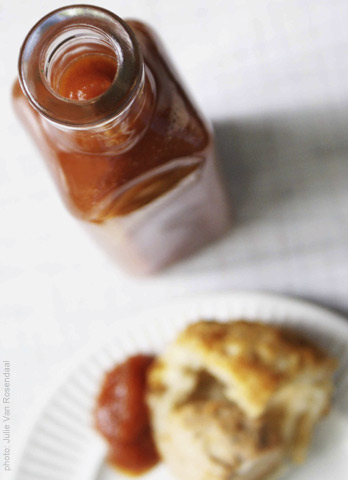 Homemade Tomato Ketchup

canola or olive oil, for cooking
1 purple onion, chopped
2 garlic cloves, peeled (optional)
10 medium tomatoes (about 3 lbs.)
1 5.5 oz (156 mL) can tomato paste
1 cup packed brown sugar
1/2 cup red wine or apple cider vinegar
1 tsp. salt
pinch dried red chili flakes
In a large pot, heat a generous drizzle of oil over medium-high heat. Add the onion and cook for 5-7 minutes, until soft. Add the garlic and cook for another minute, then add the tomatoes, tomato paste, brown sugar, vinegar, salt and chili flakes and bring to a boil. Reduce the heat and simmer, stirring occasionally, for an hour or so or until very soft and fairly thick.

Using a hand-held immersion blender, puree the mixture right in the pot, or cool and transfer in batches to a blender and puree until smooth. Seal in sealable jars according to the manufacturers' directions, store in the fridge for up to two weeks or freeze for up to six months. Makes about 2L.