Ingredients:
2 cups walnut halves
3/4 teaspoon pumpkin pie spice
3/4 teaspoon granulated sugar
olive oil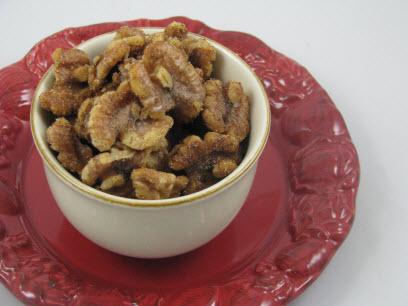 Directions:
1. Preheat oven to 350-degrees. Add walnuts to medium size bowl.
2. Combine pumpkin pie spice and granulated sugar in small bowl or custard cup.
3. lightly coat walnuts with olive oil. Sprinkle pumpkin pie spice mixture over the top of walnuts and stir to blend well. Spread out in single layer on baking sheet.
4. Bake about 10 minutes or until walnuts are golden brown. Serve warm or cold!
Makes 8 snack servings (1/4 cup each)
Nutritional Analysis per serving: 163 calories, 4 g protein, 4 g carbohydrate, 14.5 g fat, 1.5 g saturated fat, 2.2 g monounsaturated fat, 10.8 g polyunsaturated fat, 0 mg cholesterol, 2 g fiber, .5 mg sodium. Calories from fat: 80 percent. Omega-3 fatty acids = 2.3 grams, Omega-6 fatty acids = 8.5 grams.