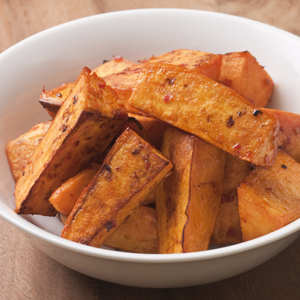 Ingredients:


1 1/2 pounds sweet potatoes, scrubbed (and peeled, if desired), cut into 1-inch wedges or pieces

4 teaspoons extra-virgin olive oil or canola oil

1 tablespoon chile-garlic sauce (see Note)

1 tablespoon reduced-sodium soy sauce

1/8 teaspoon ground white pepper

Preparation:


Position rack in lower third of oven; preheat to 450°F.

Combine oil, chile-garlic sauce, soy sauce and white pepper in a large bowl. Add sweet potatoes; toss to coat with the seasoning mixture.

Spread the potatoes evenly on a rimmed baking sheet.

Roast, stirring once or twice, until the potatoes are tender and browned, 20 to 25 minutes.