If this doesn´t drive sis zaharah "nuts", then nothing...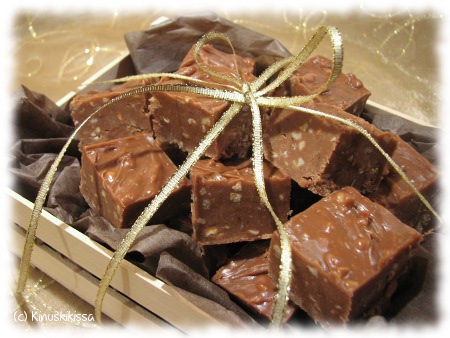 200 g milk chocolate
3 dl (300 ml) whipped cream
3 dl (300 ml) sugar
3 tablespoon honey
50 g butter
1,5 dl (150 ml) crushed hazelnuts
Crush milk chocolate.
Put cream and sugar to thick-based pan. Heat mixture until it will boils up. Add honey and butter.
Let it boils slowly until it will thicken and temperature is +116 degrees of Celsius. If you haven´t suitable thermometer, test as drop a little amount of it to cold water. If drops solifidy, mixture is ready.
Add crushed milk chocolate and hazelnut. Beat up few minutes.
Pour it to pan (18 x 18 cm) covered by greaseproof paper. Put it to fridge until it is solidify.
Cut by sharp, oiled knife pieces like 2 x 2 cm. Keep in fridge.